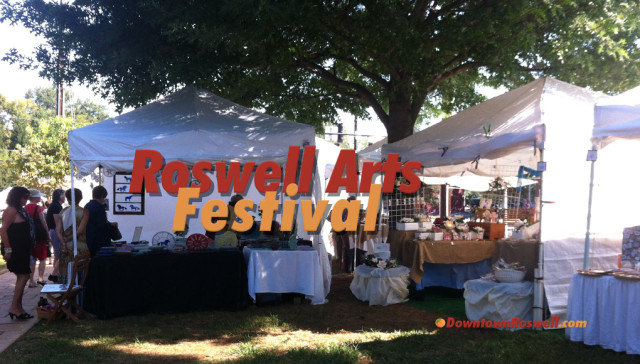 The 49th Annual Roswell Arts Festival takes place on the third weekend in September. The festival features over 150 artists and artisans showcasing a variety of art that includes paintings, pottery, photography, jewelry, glass, woodworking, sculpture, leather, fabric, sand, copper, and much more.
For the kids, there will be children's entertainers daily at noon both days as well as children's painting, sand art, and other activities.  A variety of food vendors will also be serving delicious dishes throughout the festival.
Live Entertainment Schedule:
SATURDAY, Sept. 19th
11:00 Tolbert Yilmaz School of Dance – youth dance
12:00 Satin Alley Jazz – mixed vocal ensemble
1:00 David Payton – singer/guitarist/one-man band
2:00 Atlanta Irish Music School – Irish band
3:00 Katharine Cole – singer/songwriter/storyteller
4:00 Five Long Years – unique mix of blues, rock, psychedelia, and acounstic band
SUNDAY, Sept. 20th
12:00 Aspen Countryman – singer/songwriter
1:00 Alchemy – American rock band
2:00 Abbey and Dudley – acoustic duo
3:00 Roswell City Dance Starz – youth dance
4:00 Adam Komesar – simply Sinatra (a one man tribute)
Date:
September 19th and 20th, 2015
Hours:
Saturday 10 am to 6 pm
Sunday 10 am to 5 pm
Parking:
Limited around the festival. Visitors are encouraged to take advantage of the free shuttle running from City Hall to Town Square. The shuttle will be running for the duration of the festival, and will have plenty of room to store anything that you might purchase.
Address:
Roswell Town Square
617 Atlanta Street
Roswell, GA 30075
For more information, please visit RoswellArtsFestival.com/