The Roswell Farmers and Artisans Market is a popular weekly market that takes place at Roswell City Hall in Downtown Roswell. The market features a variety of local vendors selling fresh produce, handmade crafts, artisanal foods, and other goods.
The market is held every Saturday morning from 8 am to noon from April to October. Visitors can browse the stalls and sample a range of local products, from farm-fresh fruits and vegetables to homemade jams and baked goods.  Nearly all products (with the exception of coffee and Georgia seafood) are locally sourced and grown on farms no more than 100 miles from Roswell.
In addition to its vendors, the Roswell Farmers and Artisans Market also features live music, cooking demonstrations, and other activities throughout the season. It's a great way to support local businesses and enjoy a fun, community-oriented experience in Roswell.
The Roswell Farmers and Artisans Market is a must-visit destination for those looking to experience the best of Georgia's local food and craft scene.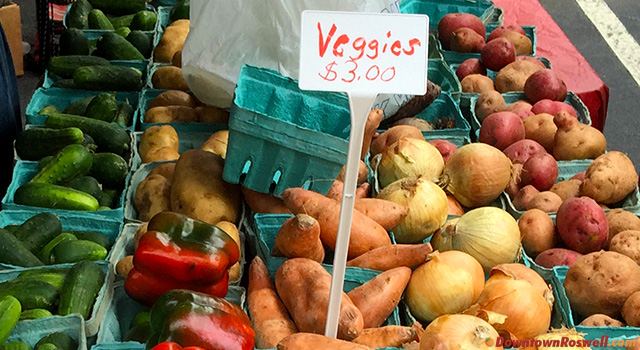 Hours:
8 am to Noon
Dates:
April to October.
Address:
Under the oaks behind Roswell City Hall
38 Hill St
Roswell, GA 30075
For more information, please call (404) 492-9938 or visit RoswellFAM.com